Our main recording studio offers exceptional infrastructure and equipment in a natural, soothing and inspiring environment
Introduction
Specially designed by Andy Munro for both recording and mixing, the room's acoustics are a great strength of Studio A.
The control room is very precise and gives a pleasant feeling of space. It is equipped with an SSL4064G+ Total Recall analog console, Protools HDX system, OTARI MX80 24-track analog recorder, Dynaudio M5 4-channel monitors, PSI A21-M + Sub A225M and Yamaha NS10 near fields, as well as a large selection of vintage and current peripherals.
The recording room is spacious, the sound is natural and warm. It allows to easily accommodate any style of group with a large choice of great quality microphones.
The room has a very high ceiling – 4 meters – and is also perfect for recording a band in live conditions.
We also have a more isolated booth, for voice recording and other purposes.
The terrace adjacent to the control room offers you a calm and beautiful view of the surrounding countryside.
Lounge
A lounge, kitchen, bathroom and a dormitory complete studio A, offering a space of relaxation to accommodate up to 7 people.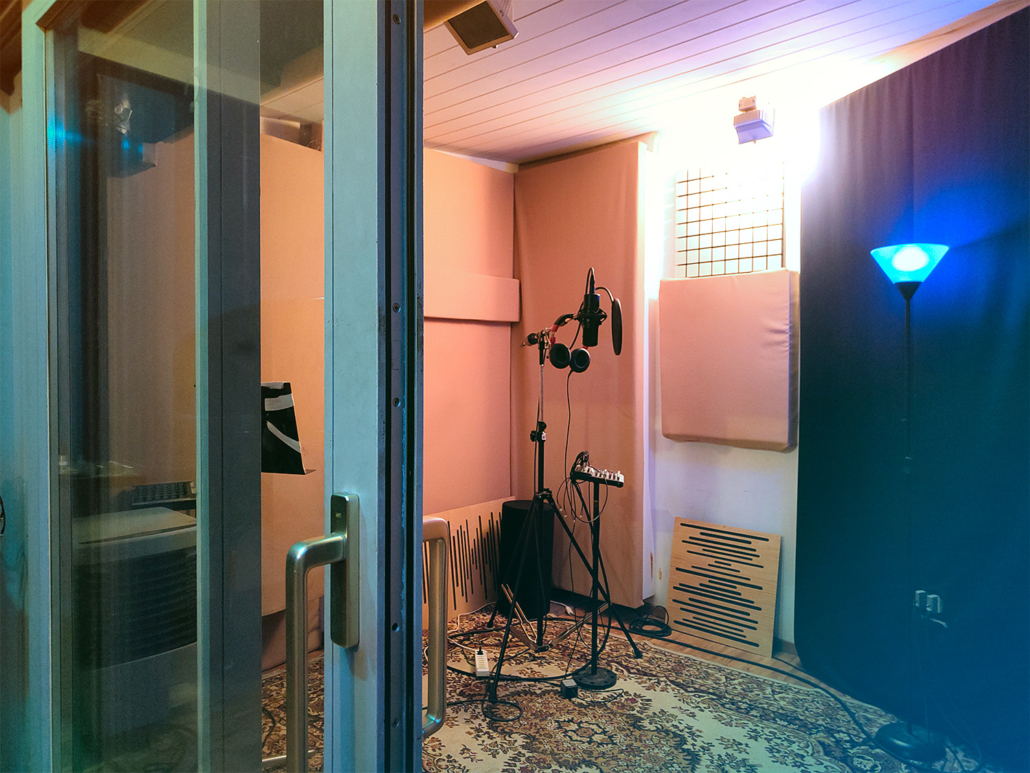 console
SSL 4064 G+: The Mixing Console That's Been Defining Music for 40 YEARS
Nothing matches the PUNCH and CLARITY of an SSL 4000 console.
OFTEN IMITATED but NEVER EQUALLED, these vintage SSL consoles have provided the 'magic glue' for countless hits, and remain the benchmark for many international producers.
Whether it's for Rock, Jazz, Pop, Hip-Hop, Classical, Metal,…AN SSL CONSOLE CAN DO IT ALL!
Recorders
• ProTools HDX with Antelope Audio Orion 32 HD + 2 x digidesign 192 interfaces – 48 in/64 out
• Otari MX 80 – 2 inch 24 track tape recorder with remote.
• Studer A80 – stereo Master Recorder
• Mac Pro 5.1 – 3,46 Ghz x 12 core – 96 giga Ram
MonitOrs
• Dynaudio M5 – 4 way System with CHORD Amps.
• PSi A21-M
• Yamaha NS 10MS
• KRK V8S4
• Rowen bi-active
• Auratones
microphones
• 3 AKG 414
• 3 AKG 451
• 1 AKG D 112
• 1 Audix D6
• 1 Beyerdynamic M 201
• 1 Beyerdynamic M380
• 1 Blue Blueberry
• 1 Electrovoice RE 16 – Elvis Presley Live mic
• 1 Neumann KM 84
• 3 Neumann KM 88i
• 2 Neumann KM 184
• 1 Neumann M147 tube
• 2 Neumann TLM 170
• 1 Neumann USM 69 – stéréo
• 3 Neumann U87
• 1 Rode NT2
• 2 Royer R121 ruban
• 1 Schoeps KM6
• 2 SE 7 dynamic
• 2 SE Electronics SE4
• 5 Sennheiser 421
• 1 Sennheiser 441
• 4 Sennheiser E 908
• 2 Shure Beta 27
• 2 Shure Beta 57
• 1 Shure Beta 91
• 1 Shure Beta 91a
• 3 Shure SM 57
• 1 Shure beta 57
• 1 Shure beta 58
• 1 Sontronics STC-
• 1 Sony C800
Preamps
• 1 Aurora GTQ2 – 2 channels
• 1 Neve V2 2 Line (Eq + Comp – Gate)
• 1 Focusrite 115HD mic pre – EQ – 2 channels
• 1 Avalon VT 737 sp (Eq + Comp)
• 1 Chameleon labs 7602 – 2 channels
• 1 Audient ASP 008 – 8 channels
• 64 SSL G Preamps
EQualizers
• 2 Pultec EQP-IS
• 1 TC Electronic 2240
• 1 EXR Exciter
• 1 Spl transient designer 9946
• 1 Focusrite 115HD
• 1 BBE 822
• 1 Symetrix 511
• 1 Aphex Aural Exciter MODEL B
• 1 Dbx 120X-DS
• 1 Neve V2 2 Line (Eq + Comp – Gate)
• 1 Avalon VT 737 sp (Eq + Comp)
CompressOrs
• 1 Teletronix LA 2A TUBE original
• 1 Overstayer Stereo VCA – New York compression
• 1 Dbx 160 A
• 1 Urei Compressor LE 22
• 1 Orban 424A
• 1 BSS Audio DPR-402 Dual Compressor De-esser Limiter
• 1 Roctron Compressor 300A
• 1 Chameleon labs 7802 tube compressor
• 1 Valley People compressor dynamite
• 64 SSL G Compressors + Master Compressor
EFFECTs
• 1 Lexicon 480 L
• 1 Lexicon PCM 70
• 1 EMT 251
• 1 T.C. Electronics TC 2240 – chorus flanger
• 1 T.C. Electronics TC2290 delay
• 1 Yamaha SPX990
• 2 Korg delay SDD-3000
• 1 Eventide Model H3000SE
• 1 Roland Delay SDE 3000
• 1 Yamaha REV 7
• 1 Chorus Roland SBF 325
• 1 Vocoder SVC-350
• 1 Yamaha Analog Delay E 1010
• 1 Mu-Tron Bi-Phase
KEYBOArDs – SynthESIZerS
• 1 Yamaha C7 – Concert grand piano
• 1 Fender Rhodes Suitcase
• 1 Wurlitzer 200 A
• 1 Hammond B3 + leslie 760 with tube preamp
• 1 Clavia Nord Stage 2
• 1 Roland JD800
• 1 Korg wavestation
• 1 E-MU planet phatt
• 1 Roland MPG-80
• 1 Roland MKS-80 – analog Jupiter 8
• 1 Yamaha TX802
• 1 Oberheim Matrix 1000
• 1 Linn 9000
• 1 Roland TR 808
• 1 MKB 1000 (Masterkeyboard)
guitars
• 1 Fender Stratocaster
• 1 Gibson SG
• 1 Gibson Flying V
BASS guitars
• 1 Music Man Sterling
• 1 Gibson Thunderbird
• 1 Fender Jazz Bass
guitar AMPS
• 1 Mesa-Boogie Triple Rectifier
• 1 Marshall JCM 800
• 1 Vox AC30
• 1 Music Man 110 RD
• 1 Marshall 1960 4×12
bass AMPS
• 1 Ampeg SVT Classic
• 1 Marshall 400w-integrated Bass system
• 1 Ampeg Classic 8×10
• 1 Amplifier PF 9220
DRUMs
• 1 Drum Kit Tama Artstar 2
• 1 Drum Kit GMS
OTHERs
• 1 Morley wah-wah/fuzz
• 1 Cry Baby
• 1 Sans Amp
• 1 DI Tech 21
• 1 Timeline micro lynx
• 1 Otari UFC24
• 10 Headphones
• 5 8-track mixers for headphones